Health Professional
Your patients have sleep apnea
and the diagnostic is in your hands.
Do your patients snore? And do they complain about excessive daytime fatigue and sleepiness?
Now you can diagnose sleep apnea from your office.​
Once correctly diagnosed, healthcare professionals in various specialties -such as GPs, pulmonologists, ENTs, neurologists, psychiatrists, cardiologists and dentists- can treat sleep disorders. 
Your patients' test record are stored on the Biologix Portal.
Simple, convenient, effective, and affordable;
Beneficial for those with impaired mobility, such as senior, disabled, and hospitalized patients.
Increased profitability for your office.
Patients' sleep routine is not disrupted; tests can be performed at home.
Diagnosing your patients in 5 steps
Gather your patients' detailed clinical history, give them snoring and apnea tests/questionnaires.
In case there is a suspicion of Sleep Apnea, prescribe a Biologix Sleep Test through our portal.
Educate your patients as to how they should use the Biologix Sleep Test (App and Sensor).
Monitor your patients' test result online.
Don't you have Biologix in your office yet? Speak with one of our consultants..
Publicação na revista científica Clinics valida exame simplificado para diagnóstico de apneia do sono da startup brasileira Biologix
O exame simplificado para diagnóstico da apneia do sono da startup brasileira Biologix foi validado clinicamente em um estudo científico no qual 304 pacientes realizaram simultaneamente o exame de polissonografia e o exame da Biologix no Laboratório do Sono do InCor – Instituto do Coração do Hospital das Clínicas da FMUSP.
O estudo, que contou com a participação do Prof. Patrick Strollo da Universidade de Pittsburgh e ex-presidente da Academia Americana de Medicina do Sono (AASM), demonstrou que o Exame do Sono Biologix possui acurácia, sensibilidade e especificidade para diagnosticar apneia do sono. De acordo com o Prof. Dr. Geraldo Lorenzi Filho, Diretor do Laboratório do Sono do Incor e um dos fundadores da Biologix, o estudo demonstrou também que a variabilidade derivada do uso dos 2 critérios distintos admitidos pela AASM para contagem de eventos respiratórios na polissonografia é semelhante à variabilidade entre os resultados da polissonografia e do exame da Biologix. Este estudo evidencia que o exame da Biologix é uma poderosa ferramenta para o diagnóstico de apneia obstrutiva do sono.
A apneia do sono tem altíssima prevalência na população geral e a maior parte dos pacientes segue sem diagnóstico, muito em função da dificuldade de acesso ao exame de polissonografia, aquele exame que o paciente dorme uma noite em uma clínica ou hospital conectado com fios a inúmeros sensores. A apneia do sono tem vários tratamentos desde perda de peso, dormir de lado, cirurgias, placa de avanço mandibular e a máscara de CPAP. 
No entanto, a apneia do sono não reconhecida e não tratada pode comprometer seriamente a qualidade de vida e a saúde, aumentando o risco de mortalidade cardiovascular. A solução Biologix é revolucionária pois permite a realização de um exame do sono de baixo custo, fácil de fazer em casa, com apenas um sensor sem fio colocado no dedo e conectado ao celular através de um aplicativo. 
Os dados são enviados para a nuvem e analisados automaticamente por um algoritmo desenvolvido pela empresa. Este não é mais um gadget, e sim um produto médico com um laudo assinado por um médico especialista em Medicina do Sono. A Biologix atua no mercado há 2 anos e já recebeu investimentos de médicos da USP, da FAPESP e do Hospital Israelita Albert Einstein. A Biologix tem como objetivo fazer o diagnóstico de apneia do sono de forma simples, acessível e precisa. Hoje no Brasil já existem mais de 900 centros credenciados Biologix capacitados para oferecer o exame.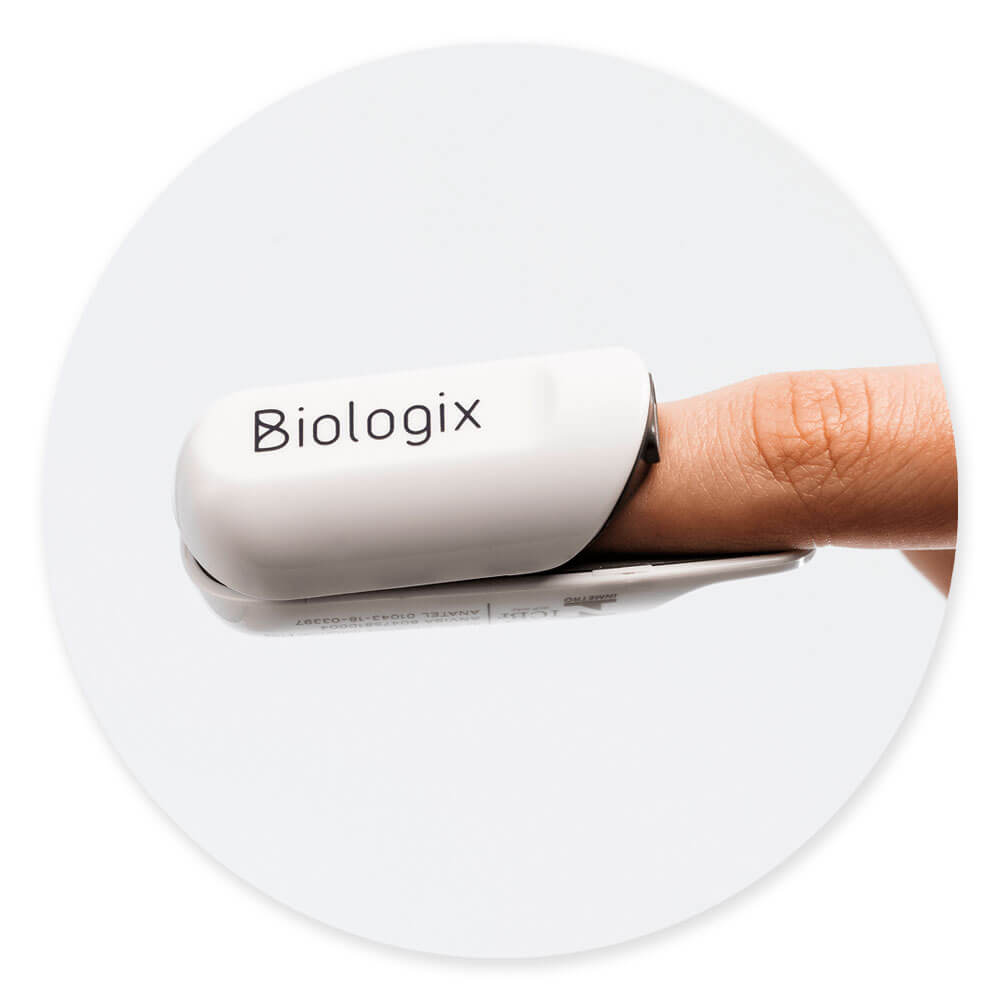 Monitoramento de sinais clínicos
Monitor remotely risk patients, patients with suspicion for Covid-19 or with mild cases of the disease by safely monitoring the evolution of their symptoms through an extremely functional platform providing real-time physiological parameters: oxygen saturation (SpO2), heart rate (HR), and other symptoms captured by patients, such as fever, cough, and discomfort.
I see Biologix as a great tool to diagnose OSA. It is user-friendly and shows results promptly and in a straightforward way. It can also be used for nocturnal oximetry testing for patients already on CPAP or BIPAP, for both comparing the equipment result in terms of sleep apnea correction and ensuring SpO2 correction.
Vanessa Ferracini
Physical Therapist
One additional tool to help us monitor our OSA and cardiopulmonary rehabilitation patients, showing events of both apnea and saturation.
Fi02 Physiotherapy and Sleep Rehabilitation Center